If you are just starting out as an online marketer, or even if you have been involved for quite some time, you have heard it said many times that traffic is the key to financial success… and by traffic, I mean website visitors.
However, I want to tell you that traffic in only half the equation – check this out…
Traffic + Conversions = Sales ($)
Be aware that traffic by itself, does NOT guarantee sales.
Once again… Traffic + Conversions =  Sales ($)
In the past, I have been good at generating traffic to my sites using "free" traffic methods… meaning that I was able to generate a lot of visitors to my sites. But, was it quality traffic?
And, although I have created a lot of website visitors, I have not been good at "conversions"… therefore I didn't make a lot of money.
So, as I evaluate my web traffic, like many of you, I either had low quality traffic or a low conversion rate… or BOTH.
So, let's break down the first part of the equation… how to get quality traffic.
Defining "Web Traffic"
Traffic is simply a stream of people who are visiting your website.
These visitors can fall into two categories…  "Un-Targeted" traffic and "Targeted" traffic.
For example, "un-targeted" traffic might be seen in a lot of online video game sites. Advertisers pay for people to be taken from the "game" site to theirs in the form of a "pop-over" or "pop-under" ad. Someone is there for a completely different reason… in this case, to play a video game… and when they exit the game, they are taken to your site.
They did not EVER intend to land on your site… very "un-targeted" traffic.
True Targeted Traffic
What then is true "targeted" traffic?
One example of this is when people find your site through a "Google" search. These visitors truly want to visit your site. Unfortunately, it is very hard to get your website at the top of the "Google" search feed so that your site can be found… especially in the "make money online" niche.
Another example is when people receive your link through an email from a trusted source… this is called email marketing. Your visitor is presented with a strong call to action in the message, and they decide to click your link.
Very "Targeted" Traffic
So, as we work our way through the process, we can see that we should ONLY focus our money, time, and efforts investing in "targeted" traffic.
I would like to show you the REAL process to building a long lasting, hugely profitable, life changing online business… just click the image below to check out my free Traffic Generation Club Membership.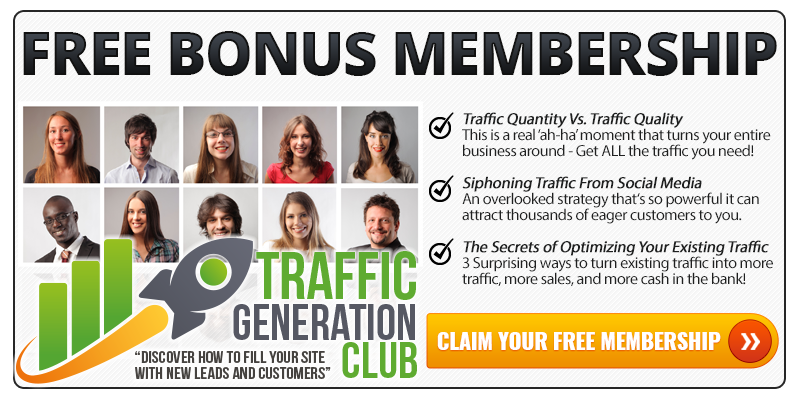 (Click the Image To Get Your FREE Membership)