Starting your own home based business without doing your research would be like diving into the deep end without knowing how to swim and without a life preserver. Before you step into the waters, or dive in as the case may be, recognize some of the challenges that you will surely encounter
At first you will be working a whole lot for very little pay. You won't be following your normal work schedule anymore. With your regular job, you can hang it up and relax at 5:00… all thoughts of work gets to be postponed to the next day when you go back for work. But, when you are working on your own work at home business, you will be living, eating and breathing your business 24 hours a day, 7 days a week, 365 days a year. Anyway, you will be if you truly want to succeed and create the income you desire.
You have to be ready to sacrifice your time. Many people get into their business anticipating that they will have loads of free time to address their business needs and yet, still be able to enjoy more time with their family. This is the exact opposite of the situation… at first. When owning a home business, it will be difficult for you to balance between your family and your work.
Here's another thing… you will be doing everything! While working your 9-5 day job you are hired to do something that you are trained and specialized in. However, when you are running your own business, not only you are your own boss, but you are also your own assistant, your own typist, your own advertising manager, your own copywriter, your own webmaster… the list goes on and on! Until your business blossoms and you start raking in profits, which may take months to years, be prepared to do everything on your own. This may require new skills AND doing things you don't particularly like to do.
Also, mark my word, when working from home, there will often be distractions and interruptions from your family… the phone will ring off the hook… or a new distributor will do everything they can to occupy all of your time. Children will be running around the house demanding your attention. All of these distractions and interruptions can slow down your work progress keeping you from focusing on the task at hand.
Finally, don't think that setting up a home business is easy money. You will have to work hard for every dollar that you earn. Just don't be discouraged… hang on to your dream and you will turn your home business into a financial success!
__________________________________________________________________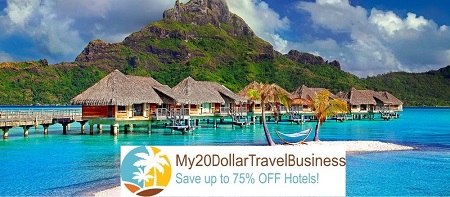 I invite you to check out what I consider to be the Best Travel Business in the world!
We sell Travel Club Memberships that provide incredible value to our customers…
* Save Up to 75% on 1 Million Hotel Rooms
* Save up to 90% on 40,000 Condos
* Earn Up to $2,000 to $10,000 Monthly
* All for the Price of a PIZZA…  Just $20
Click the green join button here =>  My 20 Dollar Travel Biz